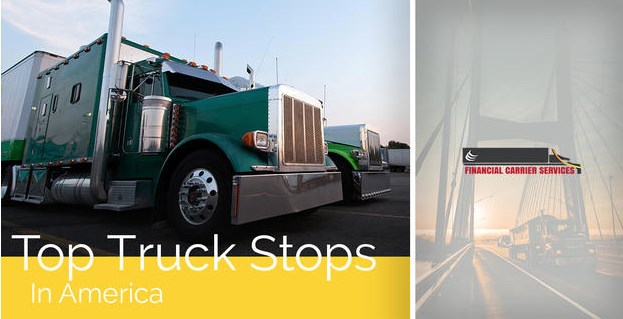 Truck drivers spend days and even weeks on the road, making it important to have a great truck stop where they can get some hot food, a comfortable shower, and if they need some new clothes, even shopping! We've all been to the truck stops that feature days old donuts and cold coffee, but there are a few places across the nation that have stepped up their game when it comes to offering quality services to truckers. Learn where they are and what makes them special!
Jubitz – Portland, Oregon
In business since 1952, this truck stop pulls out all of the stops! Jubitz has a list of features, including a Ponderosa lounge with live music, homestyle dining and grill, deli and convenience stores, 24-hour security, fleet services, oil sales and service, driver lounge, banquet and event services, and a $6 movie theatre! Don't just stop for some gas and a Slim-Jim, take a real break from the road and go to the movies.
North Forty Truck Stop – Holladay, Tennessee
Located off of I-40 at exit 126, this truck stop has restaurants that are open 24/7 and a breakfast buffet. If you're in a hurry you can stop by the deli and get something to go. They also offer some of the best conveniences, including a TV room, game room, laundry, and showers.
Johnson's Corner – Johnstown, Colorado
If your top criteria for the best truck stop is food, drive through Johnstown in Northern Colorado. Located on I-25, get a table at the sit-down restaurant and order up a cinnamon roll. They are big enough that one roll may be all you need. The rest of the food, and the service, is great too. There's also a store, chapel, lounge, and convenience store. Just don't go there Sunday morning, there will be a line for a table.
South of the Border – Hamer, South Carolina
If you want to do more than just fill up your tank and take a shower, this is where you want to go. Located on I-95, you can't miss the giant sign featuring Pedro the Bandido and the tall rides — because why would you go to a truck stop that doesn't have an amusement park? After your done riding all of the rides, get a seat at the restaurant Peddler Steakhouse.
Alamo Casino Travel Center – Spark, Nevada
In the mood for some slots? Head to Nevada on East Greg Street and you have your choice of over 260 slot machines. And when you've (hopefully) won a fortune, head to Iron Skillet restaurant to celebrate. After a long day on the road and it's finally time to rest, try out a comfortable motel for the night.
---
Financial Carrier Services wants all of the nation's drivers to be comfortable and well fed on the road. We also want their companies to have the cash flow to keep them on the road. This is where we come in! If your trucking company needs additional cash flow and can't wait for an unpaid invoice, our factoring company will ensure you get the funds you need. We offer contract-free, reliable, and professional freight factoring services. Get in touch with us today to learn more.